Hello DotVVM folks!
I am trying to bind to the title property of an element in order to have a tooltip appear. The issue is that the bound value includes DotVVM's binding syntax as shown in first screenshot.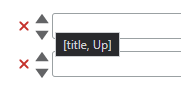 The tooltip should just be "Up" in this case.
The following screenshot is how I've defined the markup and I attempted to use both resource and value bindings. I believe I should use a resource binding as this is a 1 time evaluated i18n string that doesn't need to change client side.


How do I get only the desired text in the tooltip?